If you've been scratching your head, asking, "How do I make money from my website?", keep reading.
Here are the best ways to make money with your website or blog, starting today!
1. Approach Advertisers Directly

Use a free WordPress plugin like AdRotate Banner Manager to easily inserts ads onto your site
While selling display ads on your site can be one of the most profitable methods of advertising, it can also be the most difficult to nail down. It involves finding potential advertisers, coming up with rates, and tracking and monitoring ad performance. It will also necessitate maintaining a minimum amount of traffic to your site during your ad partnership.
Ad placements on your site may include: the sidebar, at the top of your site, in a featured box on your homepage, in a pop-up, or really anywhere that has some good visibility.
But how do you even start to find businesses to advertise on your site?
Start by visiting other blogs in your niche to see which companies are advertising on those sites.
Think about which products and services your audience uses, and approach companies that provide those offerings.
Consider which businesses you typically recommend to your audience on a regular basis…and reach out to them about a potential partnership.
Finally, put an "Advertise with us" link in your menu so potential advertisers can easily get more info.
2. Join an Ad Network

An ad network like BlogDash will help connect you with advertisers and track your results
If the idea of hunting down advertisers doesn't thrill you, another option is to sign up with an ad network.
An ad network is a company that connects advertisers with websites ("publishers") who will display their ads for a fee. In exchange, the ad network takes a cut of the publisher's revenue.
The upside is that you can focus on producing great content, and don't have to directly find and deal with advertisers. The downside is that the ad network fees can really cut into your profits.
Some ad networks you may want to check out include BlogDash, PropellorAds, and Monumetric.
3. Sign up with Google AdSense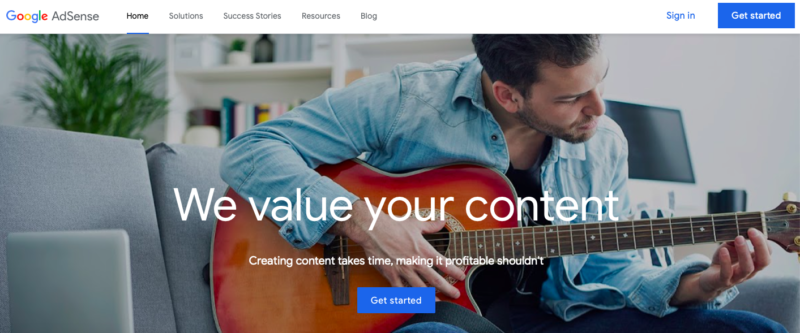 If you can't be bothered to pound the pavement looking for potential advertisers or ad networks, signing up with Google AdSense and displaying Google ads on your site is quick and easy.
You can display text or image ads in a variety of shapes, colors, and sizes. While AdSense is one of the easiest ways to get started with advertising, keep in mind that websites with small amounts of niche traffic likely won't see big revenues.
To sign up for Google AdSense, click here.
4. Join an Affiliate Program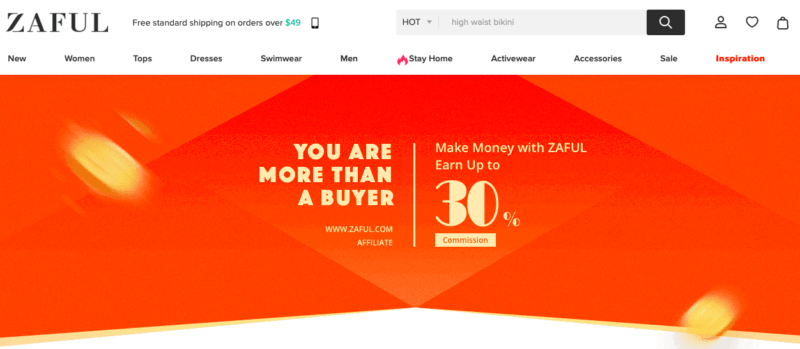 I was able to quickly find this program by typing clothing + affiliate program into Google
By signing up with an affiliate program, you promote other people's products and receive a percentage of the revenue when someone purchases a product through your affiliate link.
A good rule of thumb is to try to join programs that will give you at least $20 or 30% per sale. Otherwise, you could be putting in a ton of work for very little payoff!A good rule of thumb is to try to join programs that will give you at least $20 or 30% per sale. Otherwise, you could be putting in a ton of work for very little payoff!CLICK TO TWEET
If there's a type of product you think your readers would enjoy, try running a Google search for "product name + affiliate program". For instance, if you'd like to promote computer accessories, try running a search for "computer accessories + affiliate program" or "external hard drive + affiliate".
I also recommend visiting websites of businesses you already buy from and searching their site for affiliate information. And if your favorite business doesn't have an affiliate program? No problem! If you think you could bring them a lot of sales, reach out and ask if they'd be willing to set one up for you.
5. Become an Amazon.com Affiliate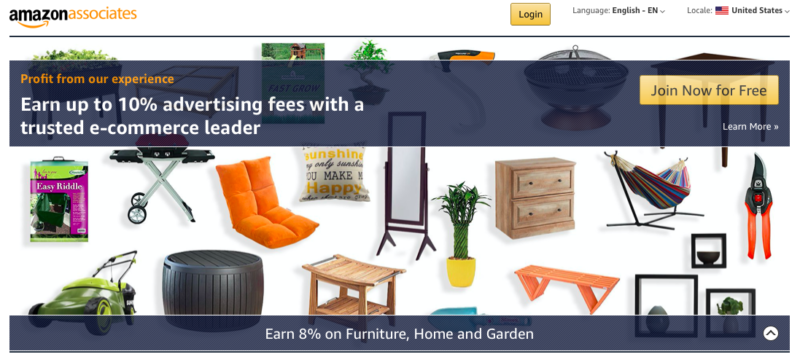 The largest and most well-known affiliate program is, of course, Amazon's. While commissions tend to be quite low – ranging from 4%-10% typically – the ease of signing up and adding widgets and ads to your site makes it an attractive option.
And the best part about the program? If a visitor clicks on your affiliate link and buys something else on Amazon, you still get a commission. For most other affiliate programs, you only get the commission if the person buys the product you were actually recommending!
While larger sites are typically more successful with Amazon due to higher traffic volumes, smaller niche sites can do quite well if they find the right products to promote.
6. Join an Affiliate Network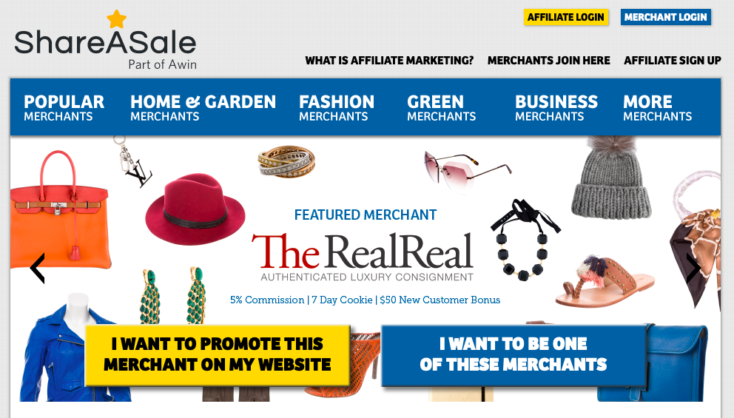 When you join a network like ShareASale, you immediately have access to thousands of potential affiliate partners
Signing up with an affiliate network gives you access to a wide variety of different affiliate programs (see #4). So, instead of going through the signup process for each individual affiliate program, you sign up once for the network, and then have access to many different programs (although you still need to be approved for each individual program).
Some of the bigger affiliate networks you may want to check out include ShareASale, Rakuten, and ClickBank.
7. Write a Sponsored Review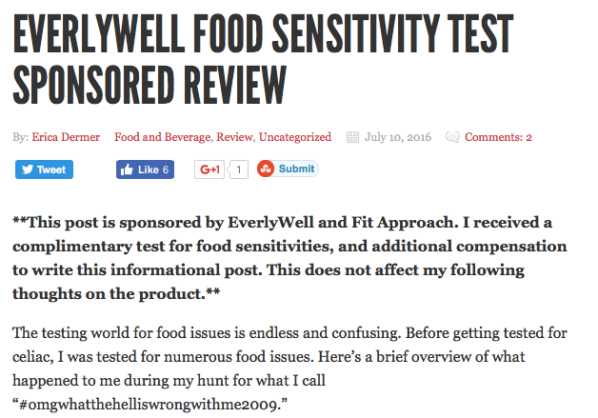 Example of a sponsored review and disclaimer
Is there a product you know your audience would love? Reach out to the company who makes or sells it and ask whether they'd like you to do a sponsored review.
A sponsored review is simply a blog post where you give your honest opinion on a particular product. In exchange, the company pays you or gives you some other form of compensation (e.g., free products, free subscription, etc.).
Typically, if you try the product and then decide you can't give it a positive review, you'll let the company know you won't publish it and can't, therefore, accept compensation.
Please note: It's super important that you clearly disclose that you've received compensation for your post. Not doing so can get you into trouble with the FTC, and can destroy the trust of your audience!
8. Publish a Sponsored Post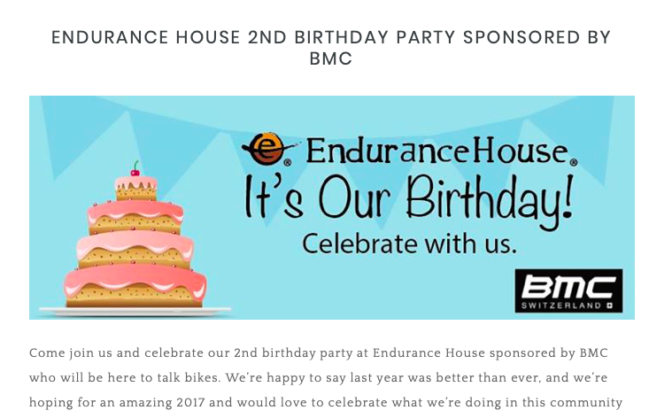 Example of a sponsored blog post on The Lake Country Mom
These are similar to sponsored reviews, with one major difference: the advertiser will typically provide you with the images and copy you're to include in the post.
These won't include your personal opinion on the product, but rather a more factual description of the product or company. Think of these as straight-out advertisements.
These aren't done nearly as often as they once were. Because you don't get to inject your own views and opinions into the post, it's far less likely your audience will find them useful! But because they're still done from time to time, I've left them on this list.
Again, it's extremely important that you clearly disclose that the post is sponsored and that it may not reflect your own opinions on the product.
9. Create and Sell Your Own Digital Product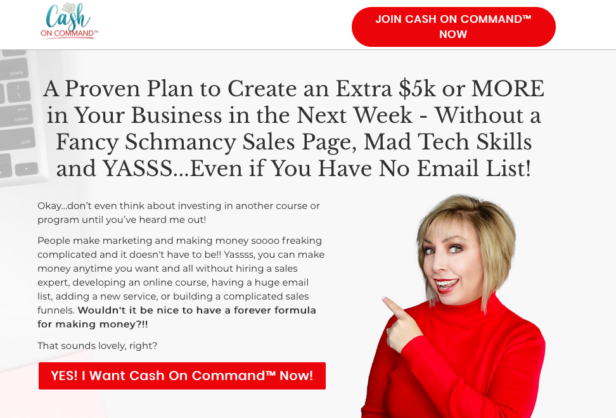 An example of one of the online courses I sell: My Cash on Command program
When you first set up your blog, you may have had dreams of quitting your day job and blogging full time. Well, if there's one strategy that's most likely to make this a reality, it's this one!
As you establish yourself as an expert in your niche, your audience will want to learn more and more from you. Package up your knowledge and expertise into digital products and promote them on your site, on social media and via your email list.
Some ideas for digital products you can create:
An eBook or guide
"Done for you" templates
Online workshops
Whatever you create, make sure it offers something of real value to your readers…something they can't find for free on your site or anywhere else.
For more guidance on creating digital products for your audience, check out these helpful posts:
How to Turn Your Expertise into Passive Income: Create an Online Course to Stop Trading Your Time for Money
How to Create a Membership Program That Rocks!
10. Host a Sponsored Event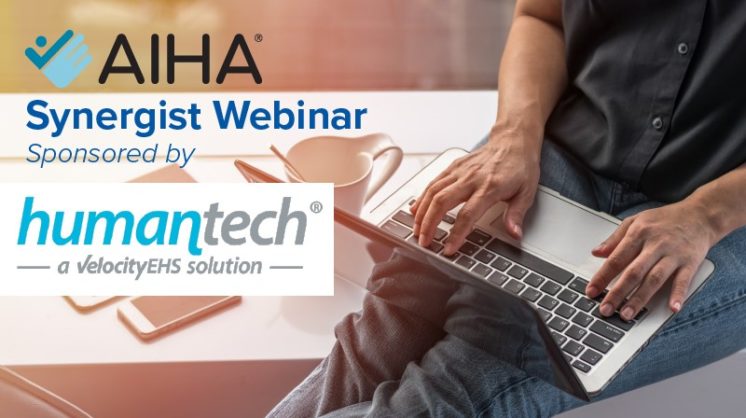 An example of a sponsored webinar
Do you hold live events for your audience, like webinars or chats? Approach advertisers in your niche who may be interested in sponsoring your event.
In exchange for their sponsorship dollars, you may promote their brand in a variety of ways including:
Putting their logo on your marketing materials
Putting their ad in your sidebar during the course of the event
Facilitating a live Q & A with a rep from their company
Giving attendees product samples or coupons
11. Do a Sponsored Giveaway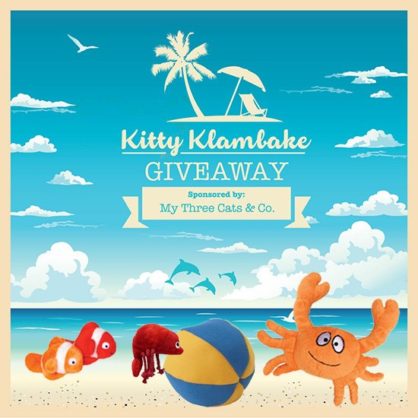 Similar to a regular sponsored post, a sponsored giveaway means you get paid to give away (and thus, promote) someone else's product.
I love these, as they're really a win-win-win: a win for your audience (free stuff!), a win for the sponsor (exposure), and a win for you (cash payment).
You can write an entire blog post to promote the giveaway, mention it in your website's newsletter, or share it with your social media follows. Better yet, do all three!
12. Dropship Someone Else's Products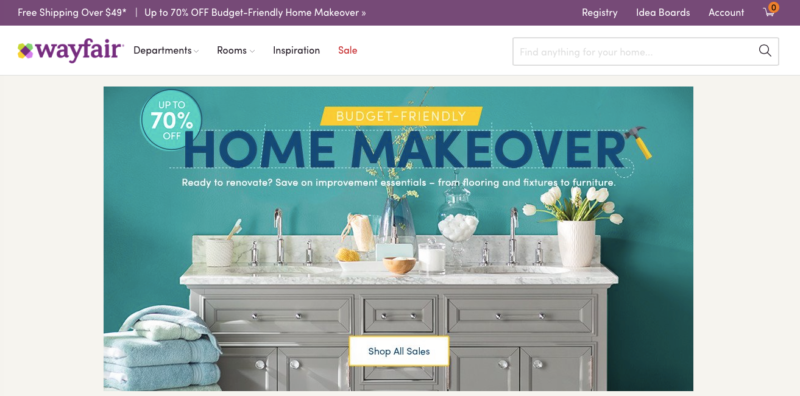 Wayfair uses dropshipping to offer the largest selection of products to their customers
Selling products on your site can be lucrative, however, it can also be a lot of work. You have to deal with inventory, shipping and customer service, all of which take up a lot of time and resources.
A great alternative is dropshipping. Here's how it works: You enter into a partnership with a wholesaler or manufacturer, who will handle all the shipping and fulfillment of the products. In fact, you never even see the product!
All you do is promote and sell the products on your website. When a product is sold, the wholesaler receives a notification and ships it directly to the customer.
When done right, your customers will never even know you're dropshipping. For instance, did you know that furniture e-commerce giant Wayfair has built their entire company around this model? Didn't think so!
13. Offer Coaching or Consulting Services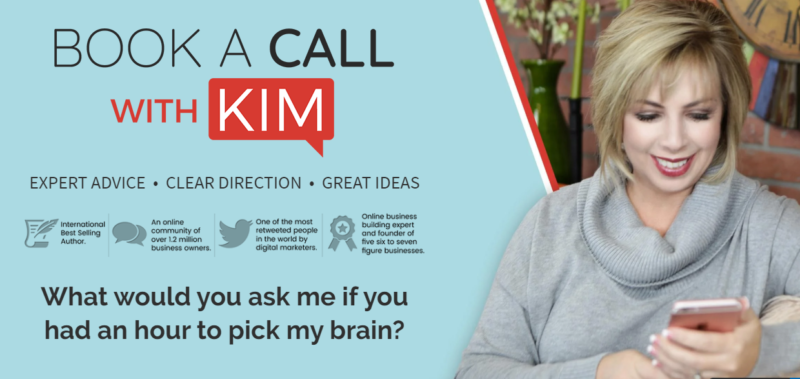 If you have a successful niche site, you're probably already on your way to being considered an expert in your field.
Capitalize on this by offering help to your website visitors and/or to up-and-comers in your field. Package up your skills and expertise into programs you can sell, or offer one-on-one advice via phone, email or Zoom.
14. Create a Job Board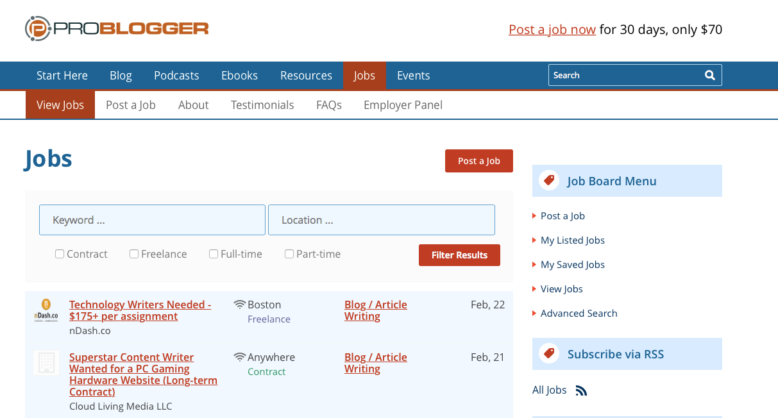 If you have a website that targets professionals or job seekers, consider creating an online job board. Posting jobs is a terrific way to not only generate traffic to your site, but to earn monthly income from the employers who are advertising job openings.
A great example of a niche site that's providing a great service for both employers and site visitors is Problogger (above). Their job board helps them generate a steady stream of traffic, while also earning monthly fees from the companies who post the jobs.
15. Sell Directory Listings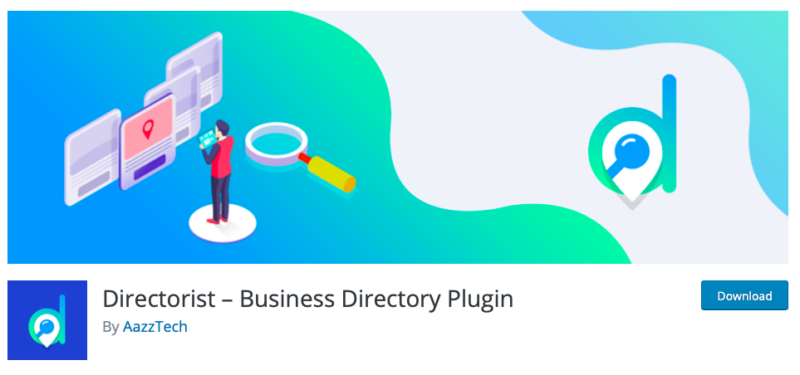 Offering free and premium placement on your site in the form of directory listings is another great way to attract visitors and make money with your website. Just make sure your listings are nofollowed as per Google's guidelines!
If you have a WordPress blog, you can easily set up a directory using a free plugin. For instance, the Directorist plugin will allow you to quickly and easily set up your entire directory within minutes.
16. Offer a Private Member's Area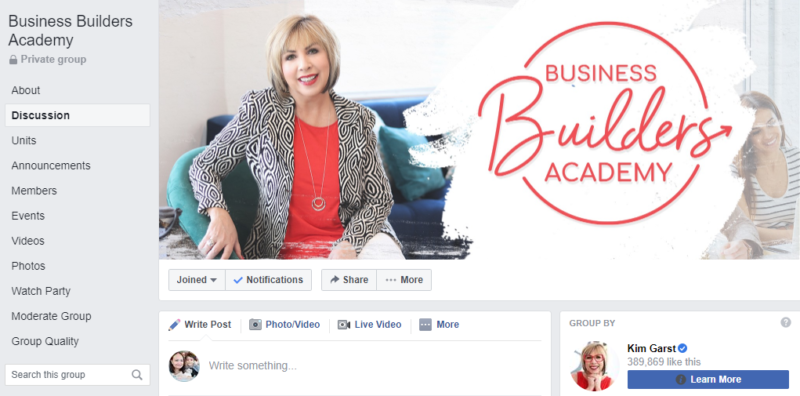 If your blog and social media followers are active and engaged, it may be time to create an exclusive member's only discussion board. This could be a place to come for advice, tips, or to commiserate; and unlike on your blog or social media, all comments are kept private and aren't indexed by the search engines.
An easy way to create a members-only forum is to create a private Facebook group. In fact, this is what we do for my Business Builder's Academy. It allows me to leverage Facebook's group platform to offer one-on-one support to our members…and the best part, it's FREE to create and run your own group!An easy way to create a members-only forum is to create a private Facebook group. In fact, this is what we do for my Business Builder's Academy. It allows me to leverage Facebook's group platform to offer one-on-one support to our members…and the best part, it's FREE to create and run your own group!CLICK TO TWEET
17. Get a Book Deal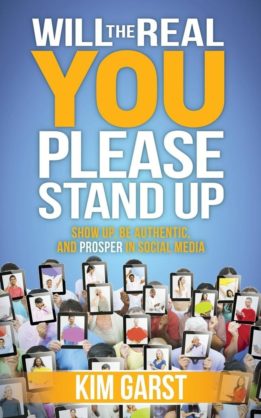 You're probably thinking, "Ya right, Kim! Who's going to give ME a book deal?".
Well, if you have some impressive metrics on your site – like unique visitors, email subscribers, or social media followers – approaching a publisher isn't quite so scary.
Publishers love to see that you already have a loyal following of folks who will likely buy and help spread the word about any potential books you write.Publishers love to see that you already have a loyal following of folks who will likely buy and help spread the word about any potential books you write.CLICK TO TWEET
So as you build your traffic, list, and followers, don't be afraid to get out there and go after that book deal!
Final Thoughts
I trust this post has answered the question, "How can I earn money with my website?". As a small business owner, your website needs to work for you – and what better way than for it to be a steady source of income!
There are so many different ways to make money with your website. Which strategies you use will depend on many factors…but, the good news is there are no right or wrong options! Choose a few strategies that appeal to you and start earning money today.