"If you're selling stuff, you're knackered, frankly." Not so long ago, those words might have got backs up at Retail Week Live. But not anymore.
Now, there is an acknowledgement that retail has to change. But what to exactly – and how to get there – is still very much up for debate.
That pronouncement by Pets at Home chief executive Peter Pritchard formed part of a panel on how to make Amazon's dominance into your biggest opportunity.
Amazon is one highly disruptive force in retail. But so too are marketplaces, the falling value of property, technology, sustainability and the changing workforce.
Retail leaders gathered at Retail Week Live 2019 to discuss how to survive – and even thrive – in this new retail.
In the words of keynote speaker Kim Winser, founder and chief executive of Winser London: "To stay ahead, retailers must have guts, take risks, let people breathe and make decisions, think creatively – if you don't, other brands will – and, above all else, put the customer first. Otherwise you're dead."
New models
Perhaps the biggest and most complex change affecting the industry is the proliferation of new models of business as direct-to-consumer brands, platforms, marketplaces and rental businesses all tussle for market share.
For retailers that have historically held the majority of this share and have done so by making landgrabs on high streets up and down the country, these changes present huge challenges.
"What's amazing about independent retailers is, because it's brutal, they're constantly reinventing themselves"

Mandeep Singh, Trouva
As legacy businesses – Toys R Us and Maplin, for instance – fall by the wayside, it helps, Stone & River's head of strategy and customer Molly Johnson-Jones says, to re-investigate your purpose.
"You need your why," she says. "Why do I, as a business, exist? To make money and sell things. You need the why on the product level – why does my product exists? Why on a customer level – why do they want to come to me. And why would people want to work for me?
"You need values and must define those values."
Trouva co-founder Mandeep Singh said that bigger retailers could learn from independents.
"What's amazing about independent retailers is, because it's brutal, they're constantly reinventing themselves. Because they have to. They have to be better then anywhere else."
Marketplaces and platforms present some of the biggest opportunities for retailers and yet simply signing onto a platform may hinder rather than help efforts.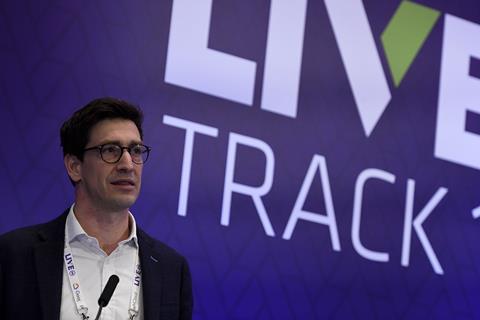 OC&C's Matt Coode: 'Beating the marketplaces is hard but there are effective ways of joining them'
"Beating the marketplaces is hard… but there are effective ways of joining them," says OC&C international head of retail Matt Coode, who tackled whether marketplaces were a force for good or ill.
"If you're not on the marketplaces, your ability to grow digitally is constrained," he adds, explaining that marketplaces grew 30% in aggregate last year.
What's more, as footfall is dropping on the high street, consumers are flocking to virtual marketplaces in their droves. Amazon has average monthly visitors of 354.3 million. The average mono-brand has 500,000.
But it is not enough, Coode warns, to just choose a marketplace and stick some stock on it.
"The economics are increasingly opaque," he says. "As service offers have broadened, the fully loaded cost of selling through the channel may not be entirely clear to brands."
It's imperative that brands and retailers instead make sure there is a clear cohesion between the marketplace customer base and their target customer. Do not follow luxury brand Gucci's example and list on mid-market Asos, for example.
With 70% of Gen Zs saying they are attracted to a multi-brand environment – a much greater proportion than millennials or even their parents – the brand selection and authority offered by marketplaces will grow ever more compelling to the consumer.
People
Because new technologies are disrupting business models, they are also severely disrupting retail's workforce. As more and more of the country's biggest businesses report redundancy rounds in their thousands it can sometimes feel as though the 'fewer jobs, better jobs' narrative espoused by some is wishful thinking.
Tempting as it might be to pretend this upheaval is not happening, Walmart International boss Judith McKenna says "keeping quiet is not an option here… retail has a really special role to play".
"We are huge employers, we are increasingly becoming technology companies and we are universal," she says. "Our DNA positions us perfectly to help in this space."
"We provide many people with their first jobs," she adds. "We also provide them with skills. We can offer paths to management like nobody else. Around the world, we are one of the backbones of employment."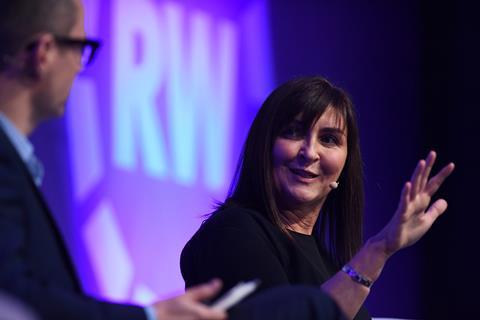 Judith McKenna: 'Around the world, retailers are one of backbones of employment'
All this, she believes, results in retail having a responsibility to think about the future of work, the technology driving that change and the impact on people.
"No one company or sector can take on issues like this alone," she says. "The socioeconomic cost of failure would be really high but at the same time I am an optimist… Tech disruption has always created more jobs than [it has] lost."
But with 60% of jobs predicted to be affected by automation in some capacity, according to McKinsey, McKenna knows there is no denying that "transition on that kind of scale can be really scary".
"Tech should create for all of us the opportunity to run better businesses, create growth and improve lives… but we will have to ensure the benefits of new technology are shared as fully, fairly and quickly as possible," she says
"I reject the view that you cannot afford to invest in front line colleagues in a retailer, you can't afford not to"

Alex Baldock, Dixons Carphone
McKenna believes public engagement, education and training on automation and AI are urgently needed and that inclusivity needs to be prioritised.
"We can shape future of working, only if we work together," she says.
N Brown chief information officer Adam Warne believes that businesses need to recruit tech talent from unlikely places rather than going through traditional routes such as agencies.
The retailer has invested in digital skills bootcamp training company Codenation to train its staff. Warne says "in 12 weeks it can take someone with no skills in digital to roughly graduate level".
"We need to look differently at the market when recruiting talent," he says of its decision to visit schools and colleges to talk about digital opportunities.
Diversity
Technology is just one aspect of the challenge here, however. The diversity of staff, at all levels, was one of the key talking points over two days of executive discussion, with the business benefits of diversity emphasised by many.
"We found that well over 9 out of 10 individuals want to be innovative at work," Accenture Research managing director Barbara Harvey says.
"95% of chief executives cite innovation as one of the most important things in their armoury. But less than 50% of the workforce feel empowered to be innovative so there's a clear disconnect."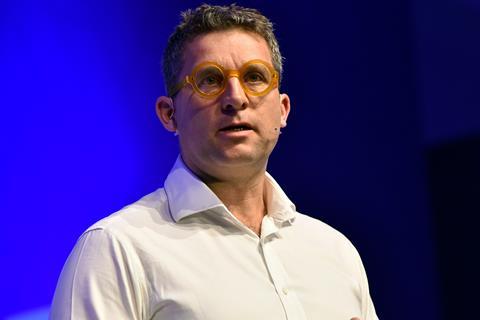 James Timpson: 'We have an upside-down management structure'
Accenture's study of 18,000 people also found a huge correlation – the strongest the consultancy has ever seen, acording to Harvey – between workplace culture improving and employees having a more innovative mindset.
Timpson is one retailer taking this message to the heart of how its business operates.
The retail chain is known for its progressive recruitment policies – it interviews all applicants, doesn't take CVs and recruits 10% of its workforce from prisons.
The retailer also eschews set prices in favour of pricing guidelines, allowing staff to give discounts and freebies to shoppers at their discretion. In an industry where in-store employees can often feel disenfranchised, this model is a radical departure.
"We have an upside-down management structure," chief executive James Timpson says. "Everyone else in the business supports [frontline colleagues].
"It took us about five years to make that change because when people get promoted they tend to want to tell other people what to do. But a culture of trust doesn't work if you recruit wrong people. We recruit by personality."
As store staff numbers move from a 'must have' to a 'nice to have' for many retail businesses, Dixons Carphone chief executive Alex Baldock believes that he cannot afford not to invest in people.
The business is quadrupling its level of investment in staff training over the next three years.
"I reject the view that you cannot afford to invest in front line colleagues in a retailer, you can't afford not to," says Baldock.
"Investing in colleagues is not optional [because] it is at the heart of why someone would walk into the store. It is very hard for the experience of the customer to exceed that of the colleague."
Technological transformation
In recent years, the conversation around technology has been dominated by talk of new innovations with AI, AR and VR held up as industry-changing. Now that retailers have had a chance to analyse the benefits of these technologies, the primary question is around how they should implement them into their organisations.
Much of the difficulty in using new technologies effectively is educating a business that doesn't come from a technology background.
Create a culture where people are safe to take risks in how you set objectives and reward people for taking risks, Moonpig managing director Nickyl Raithatha says. "Every team has to be fully integrated and bought into the strategy with objectives shared across the company."
"You need to build a culture as well as a strategy," agrees Coty European ecommerce director Christina Rapsomanikis. "Make sure everyone on the senior level is bought into a culture where their people take risks, will lose money – and you can't tell them off for it."
"You might think you're disrupting the business but actually you're just annoying everyone"

Anne-Marie Neatham, Ocado Technology
While it's difficult to pin down what a healthy culture might look like in practice, OcadoTechnology chief operating officer Anne-Marie Neatham has some very tangible guidance for all those trying to incubate innovation.
Neatham advises retailers to take shiny new tech distractions to one side to incubate them and only bring them back in when they're ready.
"You might think you're disrupting the business but actually you're just annoying everyone," she says.
Another key challenge of embedding new technologies into an organisation is the sheer intellectual difficulty of getting non-tech teams to see how to effectively work with a tech team.
"Retail is behind the curve in terms of data capabilities and it is in an arms race now," says Arcadia chief digital officer Andy Harding.
"It's fashionable to have a data science function. The challenge is that you create a function and then the business looks to them for answers. But you need to give them the questions first."
He believes the businesses really winning on their data strategy were those who not only understood the questions and answers they needed of their data teams but who were using it to change their strategy, such as Zara's ultra-responsive buying team.
Property
There are few areas of the industry undergoing such seismic shifts as retail property. As every retailer looks to cut its rent bill and others pursue CVAs or even enter administration, retail property finds itself in a state of crisis.
Retail is 19% oversupplied, with that figure rising to 49% in retail centres, according to data specialist CACI.
"We no longer know what the real value of property is and that's creating a massive problem for the industry and is proving to be a blockage to investment," admits Ellandi co-founder Mark Robinson.
He believes landlords' thinking has not evolved sufficiently with the changing environment. "For too long we've thought that if it worked in the past, it'll work again, which has got us into some of the problems that we now find ourselves in."
"We don't call it a store, we call it a clubhouse. Product interaction is quite low down the list of why people come in"

Sarah Clark, Rapha
As landlords despair of the state of their once safeguarded sector, experts debated what shape the high street and the physical store could take.
"We're trying to build an active community," says Rapha chief commercial officer Sarah Clark. "We don't call it a store, we call it a clubhouse. Product interaction is quite low down the list of why people come in."
Clark says the cycling specialist hosts regular bike rides and events in store after the tills have closed, with the specific goal of building a community around its stores and brand.
While brands like Rapha are succeeding in this aim, the reality is that many high streets have not kept pace with the rate of change in consumer habits.
So, what does that mean for what retailers should be doing now?
"Town centres should be about people doing things," agrees author of The Participation Revolution Neil Gibb. "You can't stop the wave but you can learn how to surf it."
Truly seeing the silver lining, Ellandi's Robinson summarised: "It's easier to embrace change when things are broken and it is definitely broken at the moment."
Sustainability
For decades, sustainability has been associated with once marginal causes: fruitarianism, self-sufficiency, grow-your-own hemp: the type of person who has a self-composting loo and would chain themselves to a tanker to protect the whales.
Thankfully, those connotations – worthy though they are undoubtedly are – are receding and sustainability is entering the mainstream.
And with retail, specifically fashion retail, a huge generator of waste and pollution, the industry is being held to account.
"We're going to have to fundamentally rework our businesses," says Olio chief executive Tessa Clarke.
"This is not about a CSR initiative, this is about profoundly addressing our business model because, without wanting to put too fine a point on it, the retail industry is in the landfill business at the moment. And that cannot continue."
"As time goes on, the businesses that will flourish and grow that have a sustainable business model"

Tessa Clarke, Olio
It's known that the consumer perception of sustainability is shifting. But so too, Clarke says, is the shareholder perspective.
"The prevailing school of thought has been if you invest for sustainability and impact, you should expect a concessionary return," she says.
"There is a rapidly growing school of thought and body of evidence demonstrating that actually, if you invest for sustainability and impact, you can expect to deliver market-rate returns, if not above-market-rate returns. As time goes on, the businesses that will flourish and grow that have a sustainable business model."
Non-executive director and former Tom Dixon chief executive Jamie Mitchell believes that while some investors are changing, others still have some way to go.
"Venture capitalists get it – they understand the consumer and they are there," he says. "But there is still a short term-ism in public markets – and private equity does not get it."
When it comes to persuading investors or getting a business on board with a sustainability issue internally, Kingfisher head of sustainability Caroline Laurie advises sustainability managers to talk stakeholders' language.
"If I am talking to our CFO I am taking about investors," she says. "If I am talking to the commercial team then I talk about the business benefits. I avoid the word sustainability and talk about the commercial benefits."
While the conversation around sustainability has come a long way very quickly, it is still evolving. Clarke believes that in the future the conversation will be central to every business' purpose.
"As we project for the future and think about what sort of business models will be entitled to exist we believe very profoundly that sustainability will not be a sideshow, it'll have to be at the heart of every business," she says. "Profit with purpose is going to be the business paradigm of the future."
There's a tidal wave of change going on in the sector, but the best retailers are finding ways to ride the crest rather than being wiped out.